Feiyutech Vimble 2A Telescopic Action Cam Gimbal
10 Hours Battery Life
The Vimble 2A is equipped with  a 1300mAh battery which is rated for 10 hours. Long-lasting for the whole shooting process.
Telescopic Light-weight Action Camera Gimbal
The Vimble 2A is a three-axis gimbal specifically designed for action cameras. It features an 18cm extension rod, with enhanced control of shooting/recording/time-lapse, supports switching between landscape mode and portrait mode, and WiFi Connection. The Vimble 2A is definitely the best option for action camera users.
18cm Extension Rod
The revolutionary handle, which incorporates the 18cm extension rod allows for recording a wider range of scenery.
Redefined Design for Action Camera Stability
The Vimble 2A is the best gimbal for action cameras for working with GoPro5/6/7. It is equipped with a dedicated GoPro quick release system which allows quick and easy installation of your camera.
More Intelligent WiFi Control
Through the WIFI connection of the camera, it is much easier for shooting/recording/time-lapse, etc. Automatic password saving helps you skip the complicated operation in connection.
Quick Mode Switching
Inclining the handle will quickly enter portrait mode. Suitable for diverse shooting requirements, including daily vlog and TikTok creation.
Multi-Functional APP
The FeiyuOn App supports motion time-lapse, customised trigger button and more personalised settings.
SPECIFICATIONS
Compatibility& Payload
Gopro HERO5/6/7/8, vontrol and compatible with YI 4K, SJ 6 LEGEND, RICCA, and compatible with other action camera with the weight less than 135g by changing the camera clip.
Battery type: 1300mAh (built-in battery, charging via Micro USB port on handle side).
Theoretical battery time: 10h(well-balanced status)
Weight: 277.6g (includes built-in battery, does not include camera)
Splash-proof: No
Product dimension: 279 x 94 x 69mm (unfolded) / 272 x 106 x 46mm(folded)
Rotatable Range
Tilting range:330° (with limitation)
Rolling range:195° (with limitation)
Panning range:330° (with limitation)
Controllable Range
Tilt range:+150° to -180°
Roll range:+80° to 115°
Pan range:+85° to 245°
Camera mounting (before Power On)
Unlock the motor lock:Vimble2A has Roll&Pan motor lock, please make sure to unlock them before mounting camera.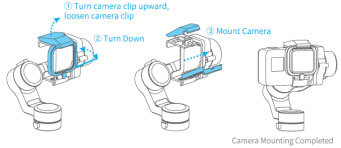 Working Modes
Pan mode:The roll and tilt direction are fixed, and the camera moves according to the left-right movements of user's hand (default mode when power on & reset)
Follow mode:The roll direction is fixed, and camera moves according to the left-right movements, up-down movements of user's hand (double tap function button)
All follow mode:All three axis of gimbal follows the movements of user's hand (triple tap function button)
Lock mode:The orientation of the camera is fixed, whatever the movements of hand (single tap function button)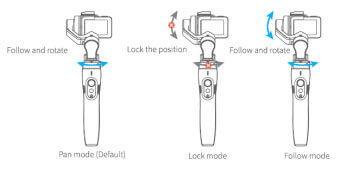 Button Operation

Function Button
Long press:Power on/off
Single tap:Switch between pan mode/lock mode
Double tap:Follow mode
Triple tap:All follow mode
Five times tap:Initialization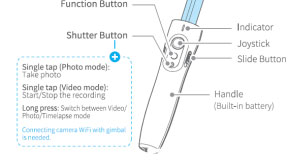 Joystick
Control gimbal and turn left/right/up/down

Shutter button - need to connect with camera Wifi
1. single tap:shutter(photography mode in camera)
Video recording(video mode in camera)
2. long press:switch in shutter/video recording/time-lapse
Trigger Button
Double tap: Reset gimbal, three axis return to initial level, and gimbal works in Pan Mode.
Long press: Enter Follow Mode, back to previous mode after loose it.
Triple tap: Selfie mode,(pan axis rotate180°) ,double tap to reset gimbal.

Horizontal Button (Right Side)
Push up: roll axis rotate left
Push down: roll axis rotate right

Portrait mode: tilt gimbal to left/right side down 70°to switch landscape/portrait mode.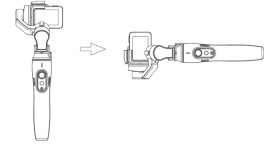 How to control the camera

WIFI control
Connecting camera Wifi via Feiyu ON App, it can control camera in the function of photography/video recording/time-lapse after the connection succeeded.

Auto-Connecting
After successful connection at first time, gimbal will reconnect to camera automatically when restart camera&gimbal. The green light flashes twice every five seconds, connection succeeded.

Extended Port
There are 2 extended ports in handle
1/4inch thread hole at the bottom of handle to mount Tripod or other accessories.
Micro USB port on the left side of handle for charging gimbal.




Standard Accessories
MT Tripod
Micro USB Cable
Wrist Strap
Polyester Carry Bag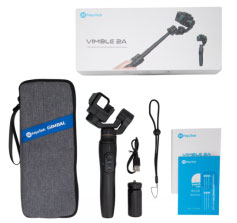 Optional Accessories
Camera adapter for other action camera, extension rod.
Vimble2A - G Clip
Optional customized adapter for camera like YI/ SJcam/Osmo Action etc.
Note:Vimble 2A can control YI/ SJcam in the function of photography/video recording/ time-lapse, but can't control the camera function of Osmo Action.



Vimble 2A - Ricca Clip
Optional customized adapter, compatible with RICCA.
Noted:Gimbal can control camera in the function of photography/video recording/ time-lapse on Feiyu ON App, after connecting RICCA via wifi.



*Camera not included.